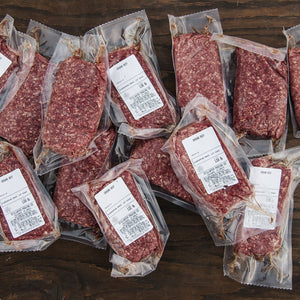 Alderspring Ranch
20 lb Grass Fed Ground Beef Bundle
Regular price
Sale price
$207.50
---
This ground beef comes from 100% grass fed & finished animals that were finished on organic Alderspring pastures. Please note that this ground beef is NOT certified organic. Read note below for the complete details of this beef.
This is simply 20 lbs of our 100% grass fed and finished ground beef. It is equivalent in fat level to our regular ground beef, with an 85/15 leanness ratio.
The fat ratio in this ground beef is comparable in percentage of fat to what you'll typically see in grocery ground beef...though on all other levels, this is a completely different product than what you'll find in the grocery store. A few key differences?
This ground beef is harvested only from the same young beeves we harvest our steaks from, whereas most grocery store grind comes from old cull cows (usually old dairy cows that have stopped producing and were sold at auction with no source traceability).
Each pound of ground beef is traceable to a SINGLE beef. Most grocery store ground beef is made from a composite of scraps from multiple animals. 
Pasture fat...not feedlot fat! We usually hear that people want less fat in their ground beef, when what you should really want is less bad fat! Our grass fed pasture fat is packed with omega-3s, beta-carotenes, phytochemicals, polyphenols, tocopherols, carotenoids, and higher amounts of saturated long-chain fats, which, unlike other saturated fats, are associated with a decreased risk of heart disease. Read more here about an actual study currently underway comparing nutrients in our beef to grain fed.
All ground beef in this bundle comes frozen and individually packaged in 1-lb vacuum packs.
NOTE: this beef is not certified organic (which is why you save big here)! There is no difference in flavor, texture, or marbling between this ground beef and our regular a la carte organic ground beef. Why non-organic? This beef comes from a steer we purchased as a yearling or calf from our 100% grass fed neighbor down the road. Our neighbor uses no antibiotics, growth hormones, or GMOs and all of his cattle roam on 100% grass pastures and are never confined to a feedlot or fed grain. After coming to Alderspring, this steer was raised and grazed alongside our 100% grass fed and certified organic beeves for at MINIMUM 1 year. We manage these non-organic beeves in the exact same way we handle our organic herd (of course no antibiotics, no GMOs, no hormones). This is beef we feel very comfortable serving on our own table! We actually sample a cut from every one of these grass fed beeves, just as we do with our organic beef, to ensure our quality and flavor standards are met (and as a side note, we have never and will never sell beef we feel is lower in quality or a product we wouldn't eat ourselves). To differentiate this beef from our organic beef, we just use a simple white label on these packages (see photo).